Space Maze probably should have been called something else. Something like Space Obstacle Course, or Space Hair Remover. It isn't a maze at all as there is only one direction to go, but there are a lot of things you have to avoid hitting while travelling in that direction and that is going to make you want to pull your hair out at times, so either of the names I have just suggested would work better than Space Maze I believe. Actually, make that Ethereal Blue-ish Somewhere Obstacle Course, because it isn't really space either. I suppose that doesn't roll off the tongue quite as well, but it's more accurate.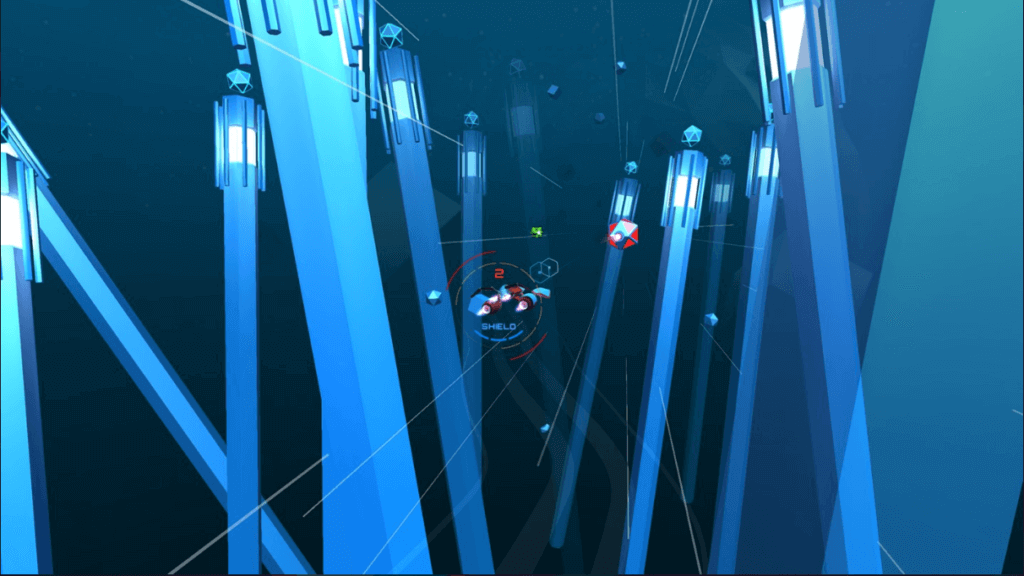 It's a simple game, with simple mechanics and simple graphics. Each of the fifteen levels has you flying through a coloured area where various geometric shapes pop into existence, sometimes right in front of you (more on that later) and you have to dodge these objects while collecting two types of pick up; the Energy Cube and an Upgrade Token. The Energy cubes let you buy new ships and the upgrade tokens let you upgrade them. Each upgrade costs one token and there is usually one token per level. I actually discovered something that could potentially be considered a cheat. If you don't want to know what that is, jump to the next paragraph now. For those of you who stuck around, it's not really a cheat, it may have been on purpose but it seems a but strange. I was one Energy Cube away from a new ship so I went back to an easier level where I knew I had missed a cube when I beat it. I thought it would be easier to get the one cube I missed in that level than try to make it through the next level in my jalopy of a spaceship. Well, when I loaded up the level, all of the space cubes were back. At first I thought that it wouldn't count them because I had already beat the level. But it did. And this was a short, easy level with ten cubes. I played it three or four times and had enough cubes and upgrade tokens to buy the best ship and give it a good start on upgrades.
Each ship can be upgraded different amounts. The ship you start with can have very few upgrade tokens spent on it before it is maxed out and each consecutive ship starts with higher stats to begin with and allows you to upgrade each stat higher. You can upgrade shields, speed and handling, though the only one that made a noticeable difference was the shields and even maxed out there is plenty that can kill you in one hit.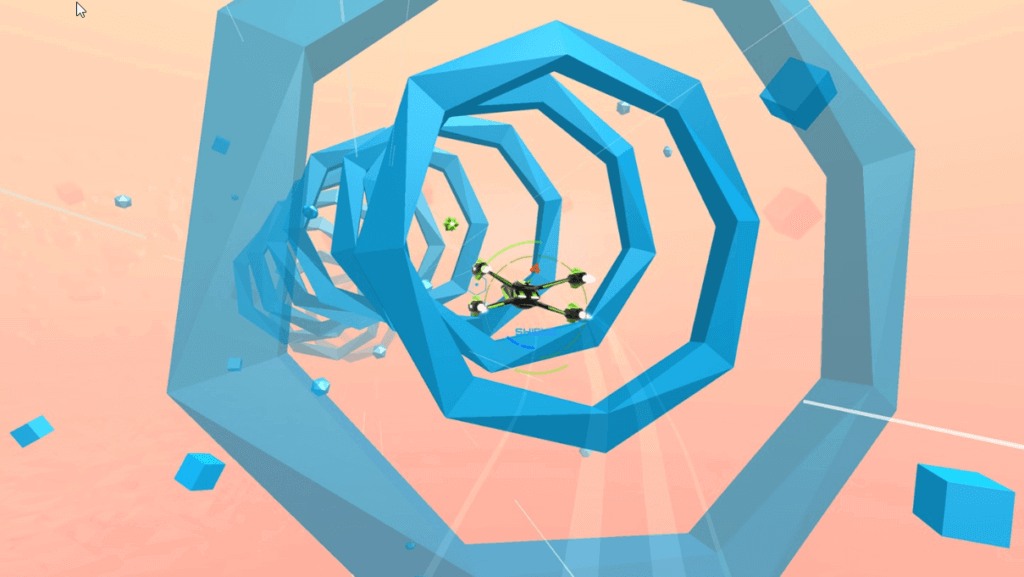 The 3D on this game is really well done. In fact, everything about the game has a good level of polish on it. It's a low-poly art style but it works very well. There are some things about the way the game works through that I wasn't thrilled with. Space Maze is a 3rd person game basically about dodging space debris, which means occasionally there is going to be some sort of something between the camera and your ship. Normally this would block your view making the game unplayable, but they've made it so the object's opacity is almost entirely reduced so you can see the ship. I actually wish it was entirely reduced because there are times in the game where seeing the object even with reduced opacity makes it hard to keep focused on the objects that are still in your path. This caused me to die several times and it was pretty frustrating, but not as frustrating as when I would be flying along and some geometry would appear directly in front of me with no time for me to react before slamming into it. This happened at least 3 times to me and it made me say words that I don't like to say. On top of that, there were a number of occasions when I died but, as far as I could tell, I had not hit anything.
After the first few levels an enemy of sorts shows up. Drones. They chase you when you fly to near to them, not that you ever have the option to not fly near them. When you approach them there is a siren noise that is alright in the earlier levels, but really grates on your nerves in later levels when the drones overlap one another and you have no less than two after you at any time. The sirens just keep going off. To shake a drone you either have to be faster than it, or cause it to run in to something. One was to shake it is to go through a boost tube thing. It looks a bit like  a portal and when you fly through it you get a speed boost. But sometimes there is some space debris floating right in the middle of the tube. That's insta-death. There's nothing you can do about it either. Drones also don't do the reduced opacity trick if they are blocking your view so they are just generally jerks and there isn't much you can do about it.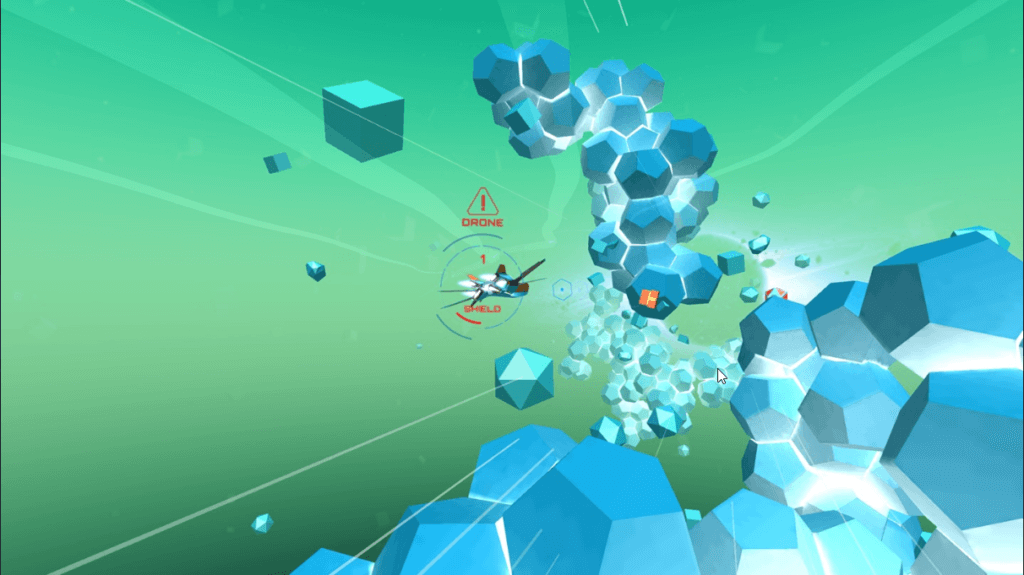 The difficulty of this game is kind of all over the place. The first three or so levels are very easy, but after that you don't really know what you're going to get. Some are longer than others and take several tries and some memorization to get through while collecting everything that you need while others are very short and don't ask much of you, and they seem to just be tossed randomly together with no sense of progression. I didn't find this to be a problem though because after completing a level that took several tries and a few four letter words it was nice to know that I might be able to just drift through the next stage.
It took me a little over an hour to play through the entire game. If you are a completionist it may take longer as getting through some of these levels without taking damage is very hard. Because I was reviewing I played it in one long session from beginning to end and doing it that way the game can start to feel a little bit repetitive, but I was never bored. If I were playing this normally, in short bursts, a few levels at a time, I don't think it would have been a problem.
It can sometimes be hard to know exactly how to judge games like this. Gear VR is home to some pretty impressive games that would be at home on a console or PC. They are bigger experiences, story driven and deeply immersive and when people play them they are usually amazed that it's a phone running them. And there are games that are mobile. They are games that people would play on their phone screens while riding a bus. They are simpler, arcadey experiences that are trying to do something totally different than the other games. Space Maze falls into the latter category. The production value is quite high. It runs smooth as butter. Though the graphics are simple, you can tell the people who made them knew what they are doing. There are plenty of ships to buy and upgrades to acquire. I take these factors into account when I pick scores.
Comfort Level

90%

Graphics

70%

Sound

60%

Difficulty

65%

Fun Factor

70%
Article By:
Daryle Henry | Dads And Dragons
daryle@dadsanddragons.com
Twitter:@DAD_Daryle
Oculus ID: theregoes2
Around the Den