Augmented Empire is a neat little VR strategy game by Coatsink, available for purchase for $11.99 CDN, or $9.64 USD as of writing this review.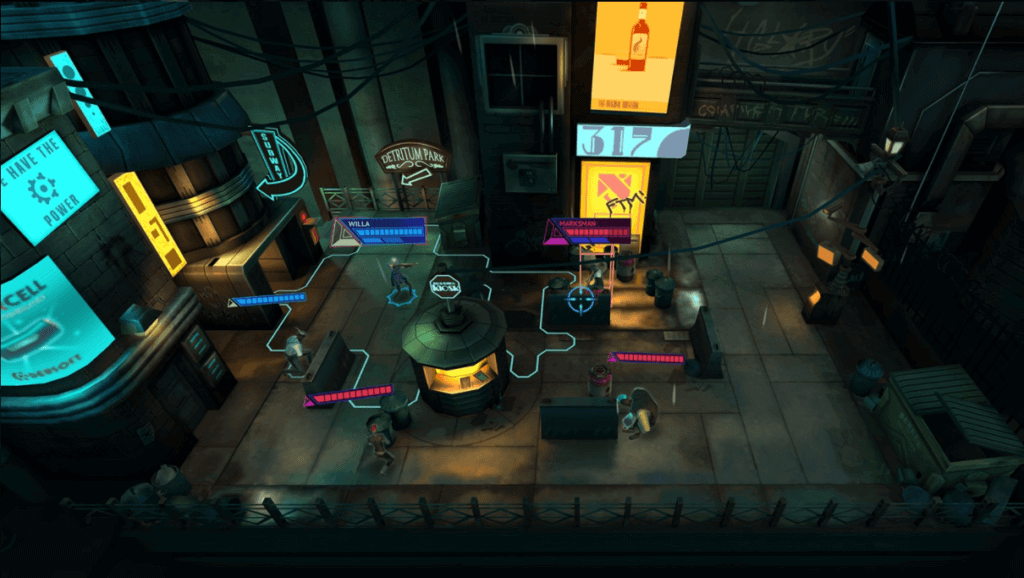 As soon as the game starts you're in the dark, grimy, cyberpunk city of Detritum, a place with a gloomy and depressing atmosphere as people are gathered around flaming barrels and everything just looks bleak and dismal. You play as just Willa Thorne for the first few minutes, a high class young adult who was thrown into the depths of the city, but soon you will have a whole cast of six protagonists to choose from. The story of the game is interesting and keeps becoming more and more expansive as new locations are explored and new characters are met.
For the most part everything looks quite nice and conveys a fitting tone and emotion throughout the game. The only thing slightly off but doesn't ruin anything are the models for people. They are very simple and non-complex, but it really doesn't matter as you'll know which character is which after playing the game for a while, and you're at an angle where where it wouldn't even be possible to see small details anyways.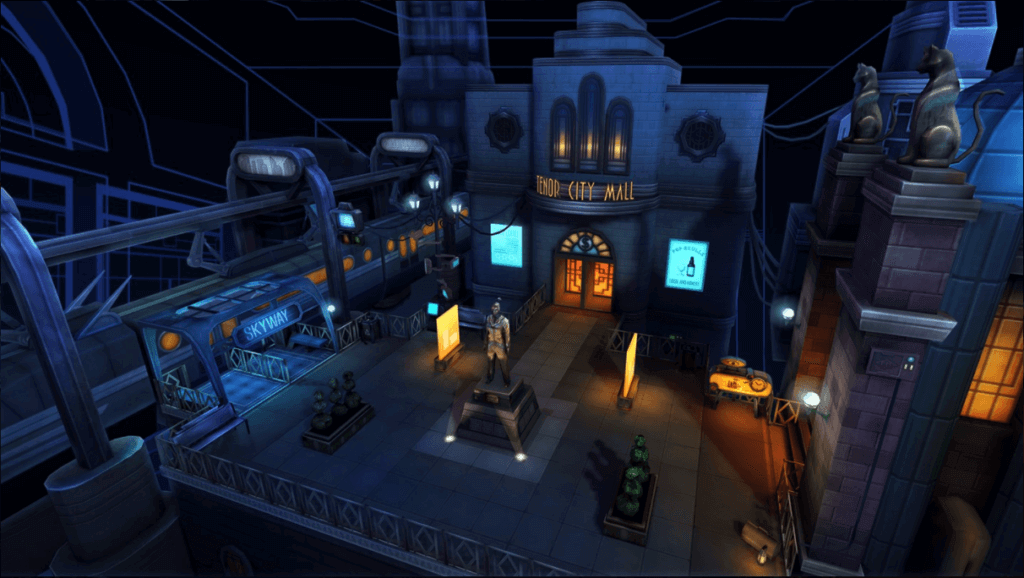 The soundtrack is very high quality, and fits the game well. It's a synth-y techno soundtrack, and it works very well with the game. At one point, the soundtrack showed some extra unique-ness when some banjo came in when the gang was stealing plants from a hydroponics facility, and it was really interesting to hear. The audio quality is great too, with music, dialogue, and sound effects understandable and easy to hear.
The gameplay is simple, but clever, in the sense that it's easy to do, but you need to be focused to land your shots on enemies, keeping the player engaged in the combat. There isn't a definite way to play, so the game gives you a ton of freedom to fight battles how you like with who you like. Throughout the game you can find items around each area, one of them being augments, which allow you to upgrade characters with new skills and abilities. With choices between dialogue and augment upgrades, there is some replayability in the game as well.
Augmented Empire is a strategy game both for players of the genre who are new but will hold the attention of the experienced. With it's simple, but engaging combat, sprawling cyberpunk world, interesting story, and wallet-friendly price, this game is worth picking up.
Article By:
R.J. Fletcher | Dads And Dragons
Intern
Scoring
Comfort Level

100%

Graphics

80%

Sound

100%

Fun Factor

90%

Presence

80%
Around the Den