When I first began playing Narcosis I didn't think that I was going to like it. Part of that is because it's a horror game and I'm getting to the point that I just can't deal with horror games. They aren't bad games, they just aren't for me. But most of it was because for the first few minutes were not great for me. To start with, I began the game holding my Touch controllers and it was telling me to press keyboard keys to start the game. I restarted it thinking that something had gone wrong and had the same thing. Then I noticed it was listed as a seated experience so I grabbed my Xbox One controller and tried again. When it first loaded it still told me to press a key on my keyboard and I was about to lose it, but then it switched to the Xbox controller. Now, I'm not a Touch snob, I will play games that don't use it, but it seems like a strange choice for this game.
The start of the game was also pretty confusing. Maybe I somehow missed being told what to do, but I felt like I had just been dropped into an underwater scene with no directions. I began walking around and exploring the area hoping for some indication of what to do. The movement seemed a bit clunky, there was no jumping, rotation is either in segments with the right thumbstick or smooth turning but with the left thumbstick for some reason. So right of the bat the game was turning me off and I thought I was in for a horrible experience. And considered just forgetting about it.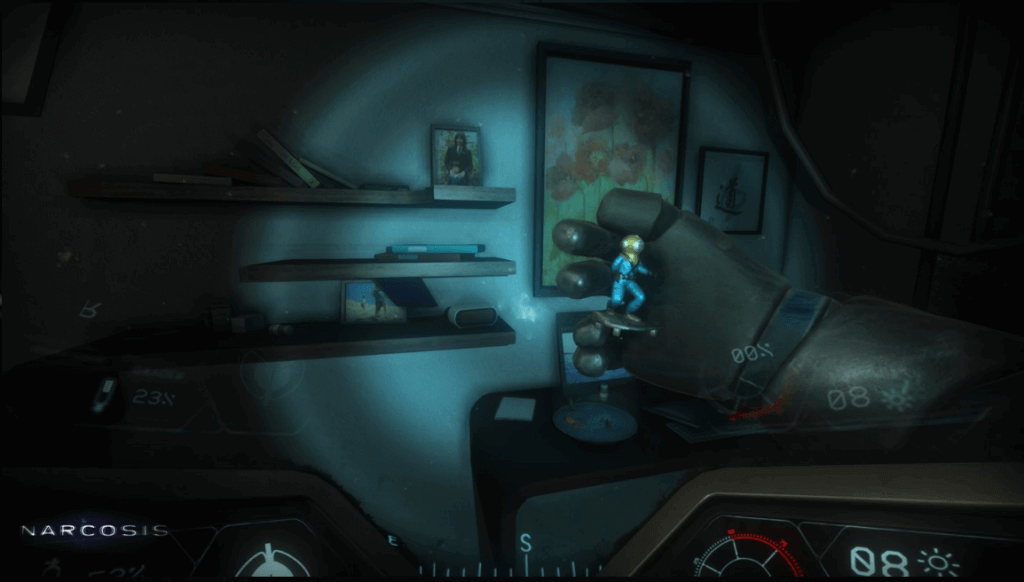 I'm glad that I stuck it out though. Honestly, I felt pretty stupid when I did figure it out because there is a metal walkway that takes me where I was supposed to go and I had just ignored it, going off in some other direction and ultimately to my doom. I guess I'm just used to be corralled like cattle to where I need to go and blocked from going off course. The walkway led me to the person I was supposed to be meeting and then a massive earthquake happened and that's the true start of the game.
I don't want to give a lot away and spoil the story so I will avoid talking about that as much as possible. But the idea is that you work at a facility so deep underwater that you need a half ton suit to survive the pressure when you are out of the hab unit. While you are working out of the unit there is a massive earthquake and it destroys everything. Your hab unit is compromised and fills with water and your task in the game is to try to locate the nineteen other people who were down there with you and find a way to get to the surface.
The danger is everywhere in this game. You're trapped inside a heavy suit at the bottom of the ocean so oxygen is limited. You can get more oxygen at stations through out the game or by swapping oxygen tanks when you find them. At refill stations your oxygen is always filled to max, but found tanks seem to give a random amount. If you keep your eyes peeled for them you will find that they are plentiful enough that oxygen is rarely a problem, but there are times when things get pretty intense because when you are in a stressful situation, you use more oxygen. This is all monitored by your suit which, helpfully, sets off an alarm to let you know that you are using increased levels. I often wished that there was some way to calm yourself in these areas but the only way to reduce your oxygen intake is to get out of the area that is freaking you out, either by getting through it or retreating.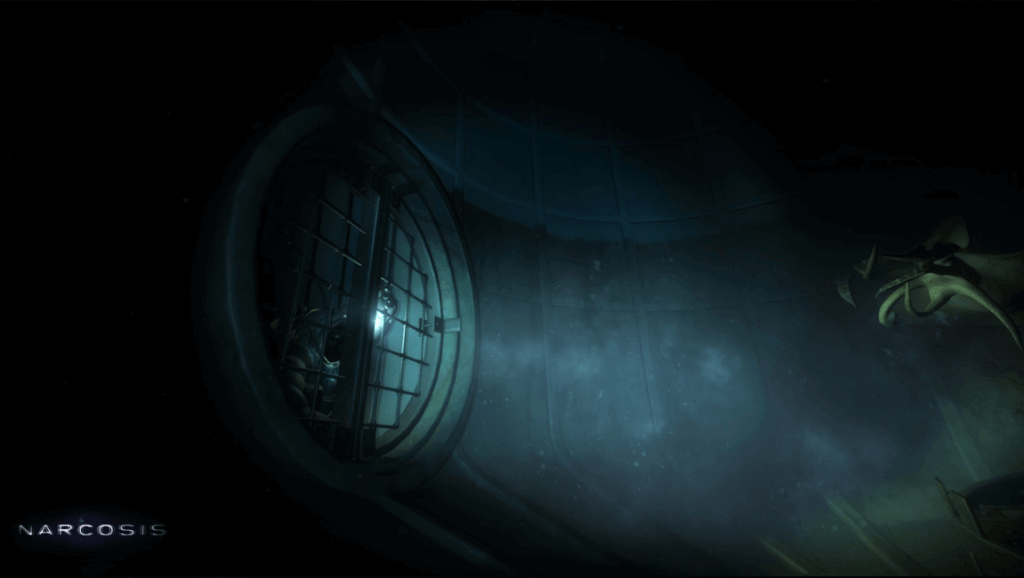 There are also various life forms underwater that want you dead and while some of them are more of a nuisance than anything else, there are some that will kill you instantly if you get too close. And those are the ones that I hate the most. I won't say what they are, but they creep me out and they have a distinctive noise they make. One that wormed it's way into my brain so that I would sometimes wonder if I was hearing it when I wasn't. At the beginning of the game I just thought it was an ominous noise, but before long it was a noise the sent chills down my back. There are many times when you are forced through areas filled with these creatures and it takes some creative thinking and plenty of oxygen to get through.
Aside from those two most common dangers there are other dangers such as walking into areas that are so hot you die, or falling to your death by missing a jump. I know I said earlier that there is no jump, and there isn't really. But there is a booster to get you across gaps and falling into some of these gaps is deadly.
Narcosis had me genuinely scared a lot of the time, but unlike most horror games I didn't want to stop playing and I think the reason for that is the lack of dependence on jump scares. That's not to say that they never happen, but most of the tension comes from knowing that you are about to encounter a creature you don't want to see. There is always a way to survive, but it might take you a try or two to figure that out. As the game's description says, there is no evil corporation, there are no paranormal entities or events. It's just the base human desire to survive in an extremely hostile environment.  And it's effective.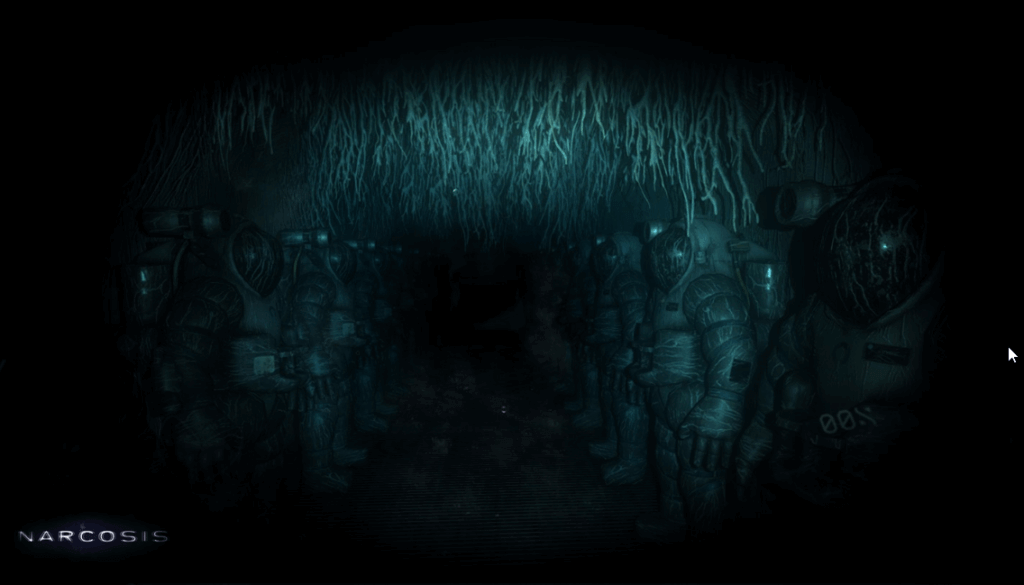 As you might expect, being in a situation like that would mess with your mind and Narcosis allows you to experience that. One of my favourite Gamecube games was a game called Eternal Darkness and it used a sanity meter. When you became too stressed out, really weird things would start to happen, like you would be walking and your character would suddenly start sinking into the floor, or else blood would begin to drip from the ceiling. Narcosis does something similar, playing games with your mind and it leaves you feeling very uneasy. These segments are my favourite part of the game.
The game isn't all about scares though. There are some light puzzle elements, items to collect, even some sections that could be considered platforming where you have to boost across gaps and land on small rocks or platforms. In some ways it reminds me of Resident Evil in the days before RE4, only underwater.  RE wasn't scary all the time, in fact, it wasn't even scary most of the time. But there were moments that were legitimately frightening scattered among what was really a puzzle game.
The story is told by voice over. At first I thought it was just supposed to be my character thinking, but it's actually something else. When I found out what it was it made more sense because I thought he sounded pretty calm about what was happening. The voice work is well done and the writing is good for a video game of this sort. One place where the writing seemed a little bit off was in some of the descriptions of his dead co-workers. When you find a body you download information from their ID tags and you can press start to check out the information. There is a sort of journal entry, written by your character, describing what the person was like and some of them seem to mock the person who was dead. I suppose that could have been me misinterpreting the way it was meant to be taken but I felt a lot of the things he said didn't accurately capture the feelings someone would have upon coming across the dead body of someone they lived with, especially considering some of the gruesome ways these people met their demise.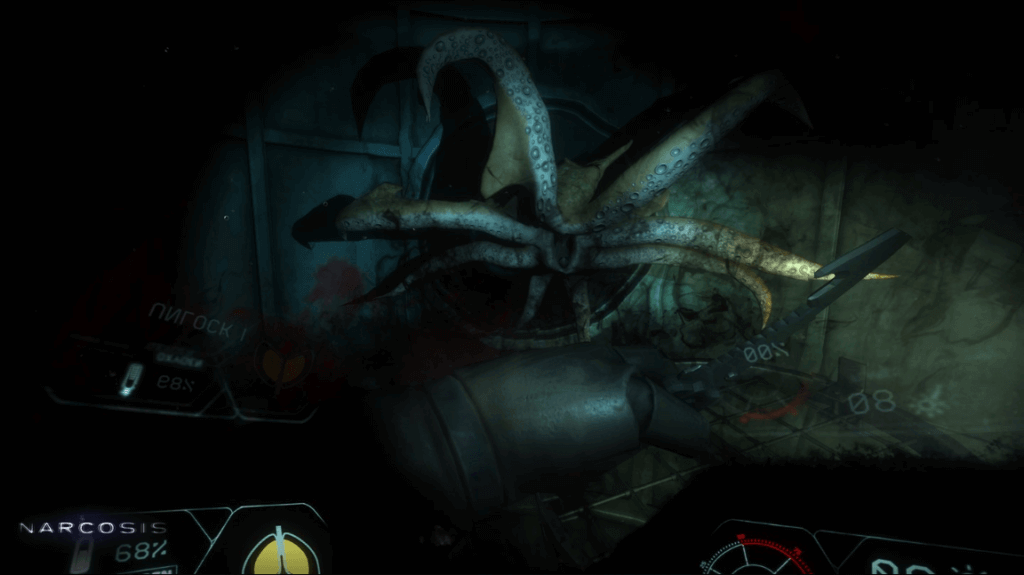 The only real complaints I have about Narcosis are, one, that save points a very far apart, which means either committing to a long gameplay session or having to redo large sections of the game when you come back to it. This was particularly problematic for me because I kept having issues with my controller disconnecting and refusing to reconnect, forcing me to reboot. Sometimes I would have to replay up to fifteen or more minutes of the game just to get back to where I had been. And two, the lack of Touch controller usage. This is a great looking, highly immersive game and it would have only been more so if I was able to reach out and interact directly with the environment. Having said that, I think it would be a mistake to skip this game just because it doesn't use Touch.
Article By:
Daryle Henry | Dads And Dragons
daryle@dadsanddragons.com
Twitter:@DAD_Daryle
Oculus ID: theregoes2
Scoring
Comfort Level

60%

Graphics

85%

Sound

90%

Terror

90%

Presence

70%
Around the Den