Before I begin I have to say that I am not the target audience for Hidden Fortune. I've been told by Archiact themselves that it is intended as a casual experience for people who like hidden object games. As a general rule I can't stand hidden object games and I'm not big on casual games either. But Hidden Fortune isn't exactly like most other hidden object games and though there are many areas that I feel can be improved, I have to say that it's the best game in this genre that I've played.
The story in Hidden Fortune is that your parents have been kidnapped by a talking goat, who used to be partners with your grandfather, the grand wizard. The goat has demanded a ransom, which your grandfather could probably pay, but rather than do that he sends you to find some gold because he's pretty greedy it seems.
When the game opens you are on an airship with your grandfather and there's an intro where you are told what is going on. You choose the level in the same way that you find and collect everything in the game, by touching the trackpad (or pressing a button on your controller) which tosses a blue ball of magic at whatever you're aiming for. You don't have to choose a level right away though. You can take in the scenery on the airship and have some fun tossing the ball at various decorations to see what happens. There's no point to it, but it can keep you entertained for a few minutes.
The first level has you in a cave where you teleport from one predetermined location to the next by tossing the blue balls of magic (let's call them BBM for short because things could get out of hand if I shorten it to something else) at yellow circles on the ground. Some of the yellow circles are locked and can't be passed until you reach a certain level. Before long you come across an NPC named Irong, or maybe Irond, I couldn't really tell, but I'm going with Irong. He is standing outside of an energy sphere where gravity doesn't work and he wants you to collect some of his things that are floating around for him.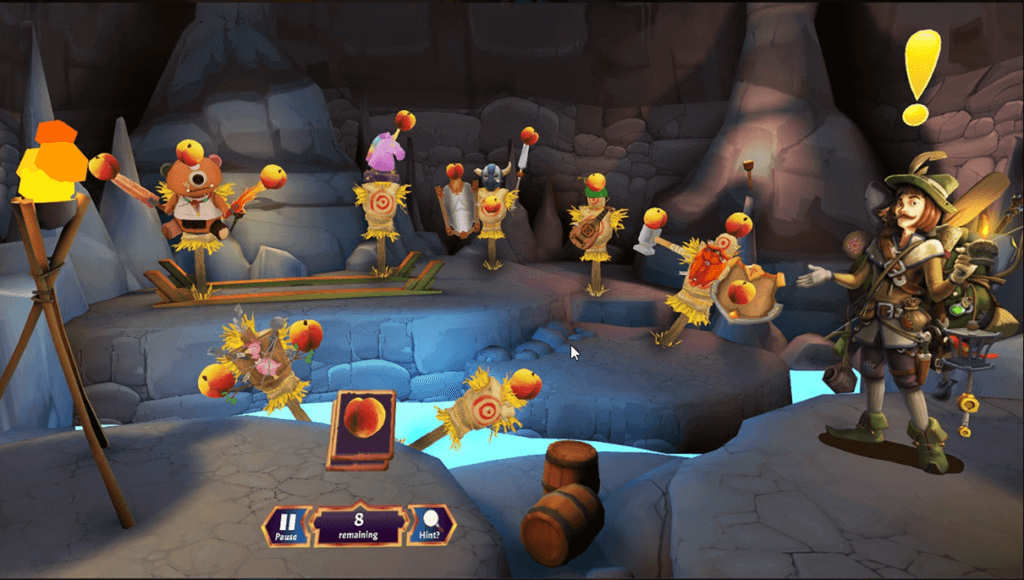 Irong is clearly supposed to be funny and I don't doubt that there are some people out there who will think he is, but if you're not one of those people, well, you're going to hate ol' Irong before the game is over. And actually, considering how often you're going to hear him say the same thing over and over, even if you do think he's funny initially you will want to take his head off with your BBMs before the game is done. This is because he is the only NPC in the cave, he is at all of the puzzles, every time you land on the yellow circle in front of him it triggers speech audio and he doesn't have that many options for things to say. Not only that, but in order to level up you need to collect a certain amount of gold so you will have to play the same games over and over again.
It's a seek and find game, but there are a few different ways to they are set up. The first one, as I said, has the objects floating around you as if you are in space, another has you smashing pots to see what is inside and there are others. All of the games keep track of score which can be increased with multipliers that build up by hitting the correct objects without missing or hitting something else but there are a couple of problems. The first is that hit detection is, well, hit or miss. It's most apparent in the zero gravity one when your BBM bounces off the thing you're supposed to be collecting and the item flies away from you instead of disappearing like it's supposed to. Clearly you hit it because the physics reacted, but you didn't collect it and your score multiplier is gone or reduced. It doesn't really matter though because just like Whose Line Is It Anyway, the points don't seem to matter. The first time you beat a puzzle you get 500 gold from ol' Irong. Each consecutive time you get 200. This means that one puzzle will probably get a lot more play time than the rest because they are not all equal in how long they take to complete nor how difficult they are, but they are weighted the same and when you just want to level up so you can move on you will take the shortest quickest route if you're anything like me.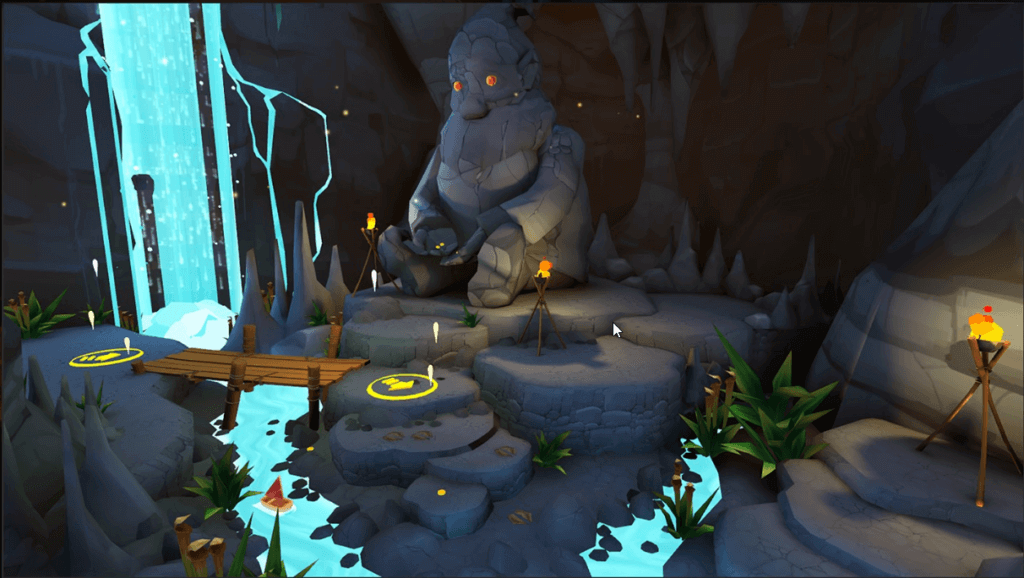 Something else that bugged me was that there is written text and spoken dialogue. Both are supposed to be Irong talking but they don't both say the same thing. In one instance the text version of what he was saying was scolding me for breaking his vases, while the audio version of what he was saying was calling me friend, pal, mate, etc. I'm not sure why they didn't just have him say what was written on screen. Or not say anything at all.
So, you've found the game that you're going to keep playing in order to level up and move on. It takes about 30 seconds to complete the puzzle on average, but another ten or so are added each attempt because you have to listen to Irong's schpiel every time with no way to skip it. A few more seconds are added in order to collect the gold. Rather than just fill your coin purse with gold at the end of the round you are given a chest which you have to throw your BBM at to open, then the gold jumps out and falls to the ground, so you have to throw several more BBMs to pick it all up. It's not that big of a deal really, but it adds several unnecessary steps to completing a puzzle and there is one puzzle where the terrain gets in the way and makes it very difficult to collect all of your gold.
There are games with bad voice acting out there and this is not one of the games, at least not in the same sense. The writing isn't great and the sound of the voice can be annoying at times, but they are recorded and delivered fairly well otherwise. Perhaps that's not a distinction most people would make but I don't feel right saying that the voice work is bad in this game. It's just not to my taste.
Here's the thing though, if you take away these issues, you are left with a well made game that looks great, runs smoothly, will keep you busy for a couple of hours and will be adding more content in the near future, all for less than five bucks. And most of these issues can be fixed with one or two updates. Archiact has asked for feedback and I've sent them my notes for this review. That doesn't mean that they will change everything I have a problem with of course, nor should they, but the fact that they asked shows they care about the game and they want it to be the best game it can be.
As I said in the beginning, I am not the target audience. Perhaps if I loved casual seek and find games the things the rubbed me the wrong way wouldn't have stood out so much. If you have read what I've written and think that I'm just nit-picking and you think you would enjoy the game then you should probably give it a shot. On the other hand, if you think that this stuff will drive you crazy it might be best to pass it by for now and see what happens with future updates and new levels.
Article By:
Daryle Henry | Dads And Dragons
daryle@dadsanddragons.com
Twitter:@DAD_Daryle
Oculus ID: theregoes2
Scoring
Comfort Level

100%

Graphics

85%

Sound

80%

Difficulty

30%

Fun Factor

60%
Around the Den