E McNeil is a pretty prolific VR developer considering that he is a solo developer and he has put out three VR games already in the fairly short time that VR has been a platform. And they aren't just slapped together Unity asset flips either. They are all in a style that is immediately recognizable as his own; futuristic, holographic and heavy on the blues and oranges. All three of his games came first to Samsung's Gear VR. First was Darknet, then Tactera, then Skylight. One of them, Darknet, has proved popular enough to make its way to Rift, Vive and now Daydream. What began as an entry into the 3 week long VR game jam held by Oculus way back when the Gear VR was first let out into the wild, developed into one of the most popular Gear VR games upon its release, and one of the best puzzle experiences available on a mobile VR headset.
Darknet, like VR, is really a game that you have to experience to truly understand the appeal of. I actually avoided playing it for some time because from the screenshots that I had seen I could not even imagine how it was played. But I heard enough people singing the game's praises that I decided to check it out. I was glad I did because the gameplay is simple but immediately addictive and incredibly satisfying.
Darknet is a game about hacking. It's VR the way it was in movies in the 90's. You are "inside a computer network" as it were, and you have to hack through protected nodes using exploits and viruses to try and get to the root node and extract information. You begin each round with one virus that moves pretty slowly and you gain money when you successfully capture a node. When you capture a node it will weaken surrounding nodes by removing a firewall (some nodes have more than one firewall.) Before long you are able to buy more viruses and other exploits like a hydra, which will slip through the system capturing all unsecured nodes that it can reach, a worm that will weaken nodes as if you had captured the surrounding nodes and others.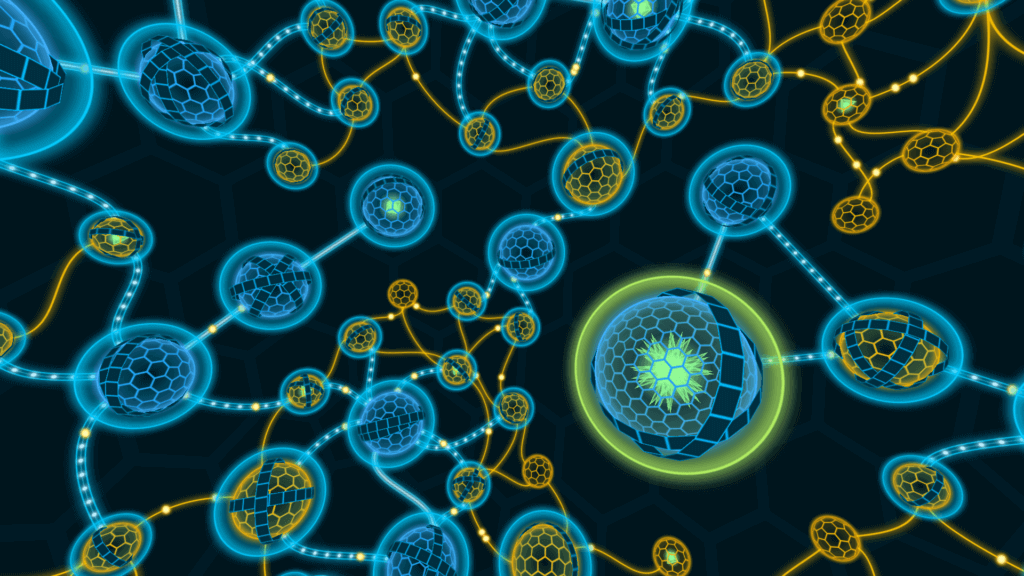 When you select a node you enter it through a sort of electronic wormhole and inside you are faced with a hexagonal grid that has various traps to prevent you from cracking the system. The traps do anything from chasing down your virus and disabling it (hence why you would want to buy more viruses) or destroying sections of the grid so your virus can no longer travel through it. To capture the node you begin by inserting your virus at an antivirus point on the grid. It then moves out to each attached point in concentric circles around the spot where you placed it. The grid is initially orange, but as your virus spreads through it, it turns purple. Should your virus spread to another antivirus node then the antivirus program will be triggered and will spread out through the pink section at two or three times the speed your virus travels, stopping the spread once it reaches the leading edge. The idea is to capture the data in the middle of the node by having your virus reach it before it is stopped by system security.
When I first began playing I was just placing viruses in random spots and hoping for the best, but after a few puzzles, I had developed a strategy that was serving me well. You begin to get a feel for what is going to work and what isn't. And that's a good thing because once you pass the tutorial section you are on a time budget. And not just for each node, for the entire session. You have a certain amount of time at the start to capture the root node, which you can think of as the final boss. There is nothing preventing you from just attacking it right away of course, but you would just be wasting your time as each round starts you with a single virus, which isn't going to be enough, and you need to buy your tools as you earn money from securing nodes.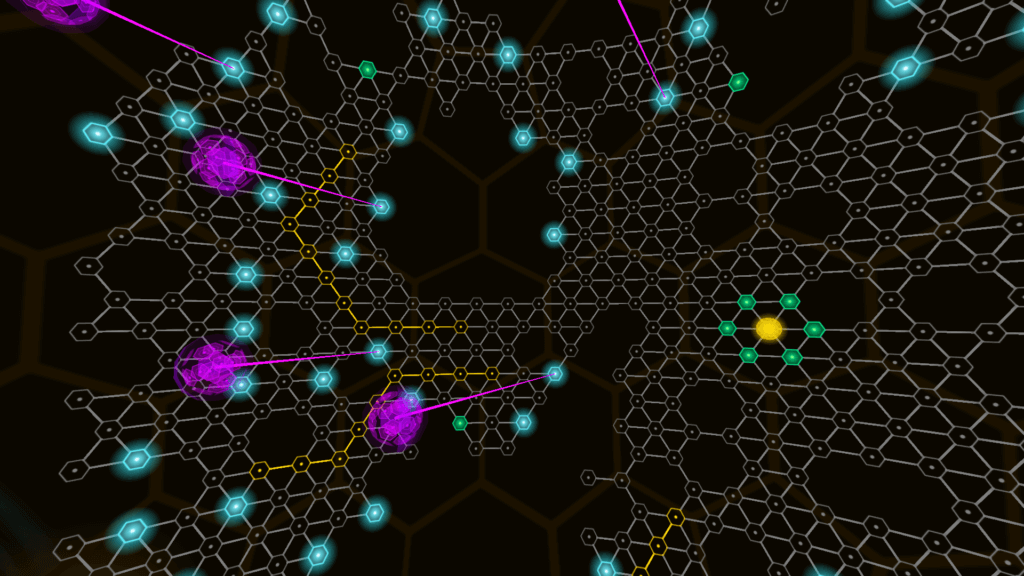 If you've ever wanted to feel like you were a hacker from an old movie, physically entering the computer and sicking your exploits on the system defenses like well-trained Rottweilers, then you should give Darknet a try. Admittedly its $12.99 price point could seem a little bit scary but while the experience is simple, it is also premium. There is a lot of content and satisfying puzzlery here to justify the price tag.

Article By:
Daryle Henry | Dads And Dragons
daryle@dadsanddragons.com
Twitter:@DAD_Daryle
Oculus ID: theregoes2
Scoring
Around the Den