When Google Daydream was announced I thought that it had a good chance of being a Gear VR killer. It promised to be on more phones than Gear VR, be built entirely into those phones, it looked to be more comfortable and it had the motion controller. I was ready to jump ship, certain that the one that I was on was sinking. But before it was time for me to get a new phone, Samsung released their controller. That combined with the fact that I'd not been hearing great things about Daydream caused me to rethink abandoning my first love. While what a phone can do with VR is the most important aspect of a smartphone for me, for my wife it's the camera. And Pixel boasts a pretty solid camera, in fact, at release it was lauded as the best camera on mobile. Thankfully that meant she went with pixel and I could now straddle the two ships, legs akimbo, like Van Damme in that commercial with the trucks. I don't remember what it was for, but I remember the splits.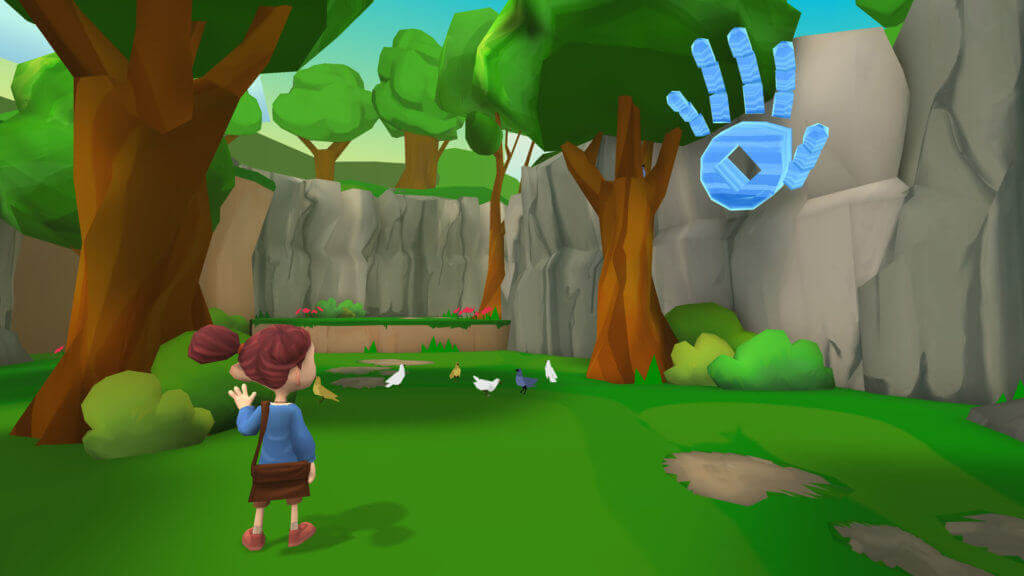 I still didn't jump on the Daydream bandwagon right away though. I'd been so busy with Gear VR, Rift and the occasional Vive game that I wasn't sure I wanted to add another headset into the mix. But then I came across a neat looking game called Along Together. And that neat looking game was from a company called Turbo Button. If you are unfamiliar with Turbo Button my suggestion is that you become familiar with them because they are awesome. They came on to the mobile VR scene with Adventure Time released on the Gear VR. It was an impressive, albeit short 3D platformer that captured the humour or the Adventure Time show, included fourth-wall breaking cutscenes and was an excellent demonstration of why VR doesn't have to be first person to be good. Adventure Time was followed by Floor Plan, a quirky puzzle game that takes place entirely in an elevator. It too was very short, but full of really cool ideas.
When I first saw Along Together I assumed that it was coming soon since I hadn't seen it on the Oculus Store. When I found out that it was a Daydream exclusive I was crestfallen. I took to Twitter to ask if it would be coming to Gear VR. The answer was very cryptic. No. I couldn't be bothered with their head games so I got myself a Daydream View (thanks Seth The Intern), stole my wife's phone, strapped it to my head and began playing their game. And it was good.
Along Together is a 3D Puzzle Platformer where you are a giant disembodied hand that is helping a boy find his lost dog. This is done by grabbing various parts of the level and moving, rotating or otherwise changing the level to make it traversable by the character. You also tell the character where to go by pointing at the ground in front of him or her (you can choose) and pressing the button to make him chase your dot. Kind of like using a laser pointer to steer a cat only not as likely to wind up an internet meme. I wasn't immediately convinced that I would like this form of locomotion but it actually works very well for the most part. There are times where I found myself forgetting that there is no positional tracking on the controller as I extended my arm to try and pull a box faster or in another direction, and there were times when I had to rotate my wrist in ways that were less than comfortable, but these instances were few and far between and most of the game worked flawlessly.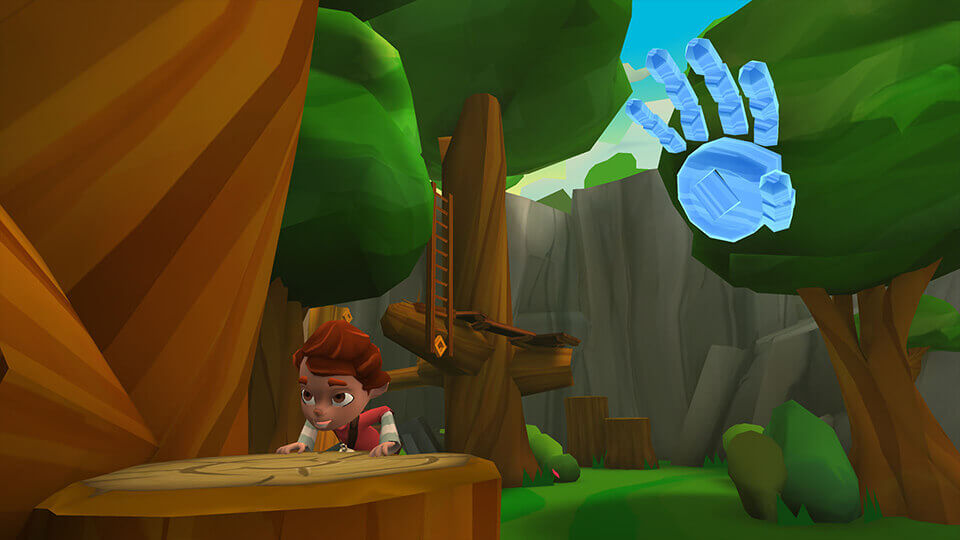 The control scheme is helped by the fact that you can't walk off a ledge to your doom. If you get too close to the edge of a platform or cliff the character will do a little balancing animation as though about to fall, but then catch himself (or herself, but I chose to play as the boy so for the duration I will use the male pronoun.) Whenever you can make the character interact with something like a switch, a bubble will appear above his head that you click and he goes to work. So for the most part, getting around is a breeze and far better than I had initially given it credit for.
I'm not much of an audiophile. I'll notice if sound is really bad, but generally when it's really good, I just tend to not notice it's there. I've heard sound designers admit that if they do their jobs well, most people won't even notice it so I don't feel bad about that. But Along Together is one game where I noticed the sound not because it was bad, but because it was really good, especially in the second map levels that take place inside a cave and the sounds reverberate off the walls. The 3D audio absolutely adds to the presence produced by the game.
There are a lot of people who don't like third person perspective in VR. I'm not one of those people. When done well I love it. But something that Turbo Button does is make 3rd person games that are actually first person. In Adventure Time you weren't actually Jake or Finn, you were yourself, turned into a balloon and floating behind them. In Along Together, you are yourself again, only this time you are able to reach into the world and affect the environment. In both games you are giant which makes it look like you are playing with toys in a toy world. I've always felt that this effect makes the whole world appear more solid and real, like it's sitting on a table in front of you and it is absolutely the perfect way to do a game like Along Together.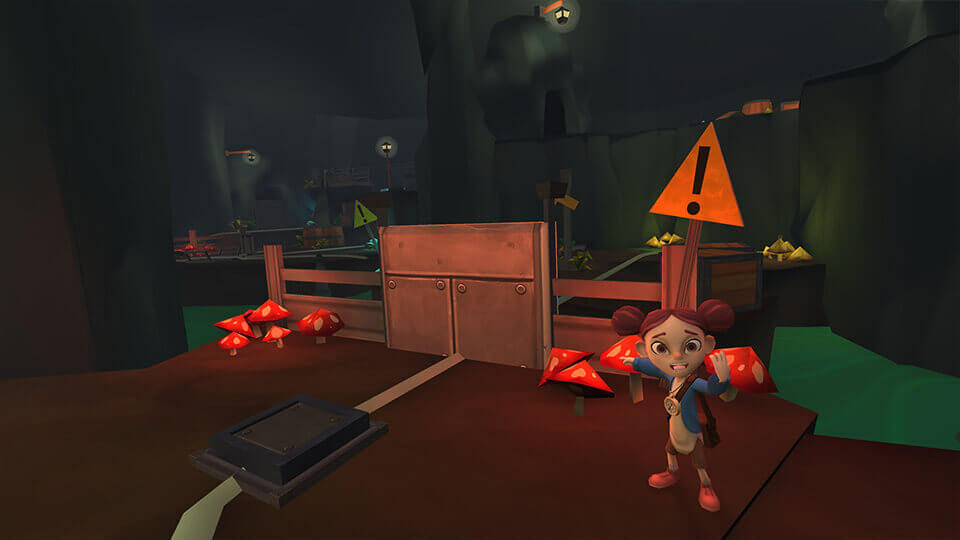 The puzzles start off easy and obvious. There is a gap that you can't get the kid to jump across but there is a log with an obvious grabbing point on it. You grab it, pull it over, and voilà, instant bridge. They get more difficult when you have to start navigating to switches in order to access other areas, or to enable the grab points on other sections of the level. If you're a person who likes mind meltingly difficult puzzles you may not be satisfied with the difficulty on offer here. If, however, you are more like me and you enjoy a bit of a challenge and don't mind scratching your noodle a little bit before solving, but do eventually want to be able to solve it without tearing your hair out, then Along Together is your game. Not since Neverout on the Gear VR (and now Rift as well) have I been so impressed with the puzzle design in a game.
Each level contains two or more sections and each section is a puzzle on it's own. The game seems only to save between levels so if you start a new level you could be committing yourself to either another ten to twenty minutes of play time or do doing a rather large swath of the game over again if you give up or overheat. I will admit there were two times that I turned the game off because of a lack of a check point feature. The first time was simply because I had been playing for a long time and the new level looked more complicated than I cared to endure by that point. The second time was because I had managed to get myself into a spot where I was unable to move anywhere and when I exited to the map and came back into the game I had to do a fairly complex puzzle over again that I had just finished only a few moments before. I've contacted Turbo Button to let them know about this glitch, but honestly, the chances of it happening to anyone else are pretty slim. (Update: Just as I was about to post this I received an email from the developers showing that it is actually possible to get out of the position I was in. I just missed it so that's on me.)
There is roughly two hours of gameplay here which makes it Turbo Button's longest game yet, though still short by some people's reckoning. But there is a quality to Turbo Button games that is missing from many other games that are longer. Turbo Button has put out three games now and they are all worth playing, though I think Along Together has to be my favourite. This game just oozes charm, it's gorgeous, it's fun, and it's the perfect size game for mobile VR. Even though the price is in the upper tier for mobile VR I don't imagine there will be very many people who are less than happy with their purchase.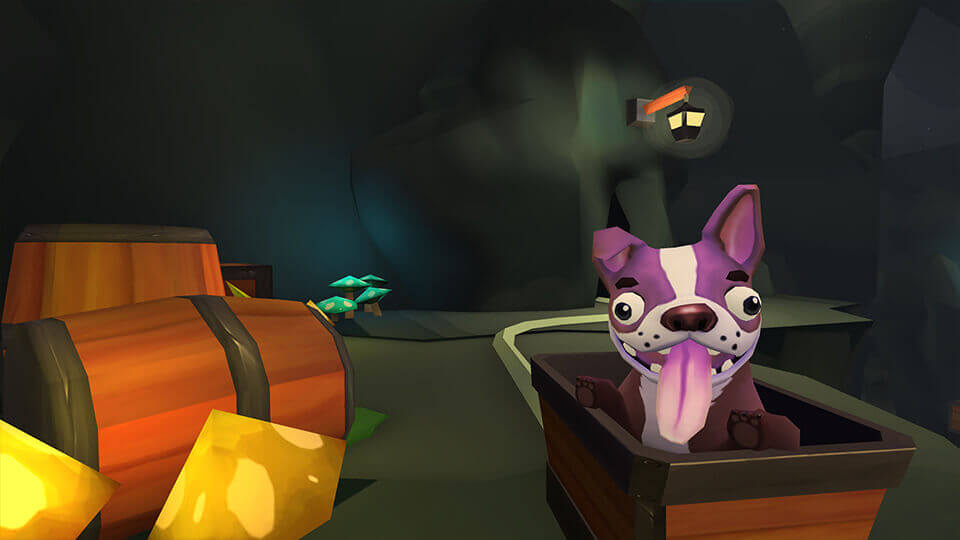 As an added bonus, there are toys hidden in the levels that you can find and when you do they show up on the title screen. I only managed to find two of them, a truck and a gameboy that plays an actual game. It's a pretty cool added feature that will give you a reason to go back through the game a second time if you were less than thorough the first time.
What are your thoughts on this review? Join the discussion here:  The Roost – Along Together Review Discussion
Article By:
Daryle Henry | Dads And Dragons
[email protected]
Twitter:@DAD_Daryle
Oculus ID: theregoes2
Scoring
Comfort Level

100%

Graphics

90%

Sound

95%

Fun Factor

90%

Presence

75%

Difficulty

65%
Around the Den